Content Warning: Residential Schools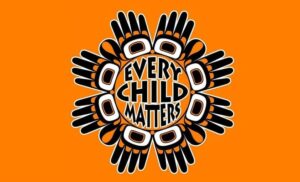 It's been a rough start to summer in Canada. On May 27, the remains of 215 children were found at the site of the Kamloops Residential "school," many in a mass grave. Flags were lowered, and memorials sprung up across the country; collections of children's shoes to represent the children who never made it home from that forced assimilation site. Then on June 10th, RCMP Cst. Shelby Patton was killed here in the town where I live, and flags remained at half mast as we mourned that loss. Flags were still lowered when, on June 24th, the Cowesses First Nation announced the discovery of the remains of 751 children in unmarked graves at the site of the Marieval Residential School.
It's been more than a month since flags flew high and proud across Canada, and today is no day for patriotic flag waving. I am marking this Canada day preparing the first 50 of my letters to every MP and Senator in Canada demanding action to end the slow-moving genocide that has been killing Indigenous people and their culture for hundreds of years.
Today I'm sharing a YouTube read-aloud of David A. Robertson's book When We Were Alone. I love this book because while it is honest about the hardships of children in forced assimilation sites, it also celebrates Indigenous resilience.
Canadians, I hope you take today to mourn. Last year there were many reasons to celebrate Canada day, and next year there will be once again, but this Canada day, settlers need to stand in solidarity with the grief of Indigenous communities. Keep your flag at half mast and read the TRC calls to action instead— then choose one to work on.
This will be my last post for a while. I'm taking a break from the blog to enjoy a road trip with my kids, and to work on a soon-to-be-published young adult novel! I will be back in August with book recommendations you can use in your ministry as Sunday schools get up and running again.
Storybook Ministry is reader supported. My first Patreon bonus book list is going out to patrons today! If you can, please consider supporting my work at www.patreon.com/storybookministry and you will get a monthly themed collection of book recommendations.
Thanks for visiting!